Criminal & Civil Trial Advocacy by Justice Datuk Vazeer Alam Mydin Meera and moderated by Justice Nantha Balan E.S. Moorthy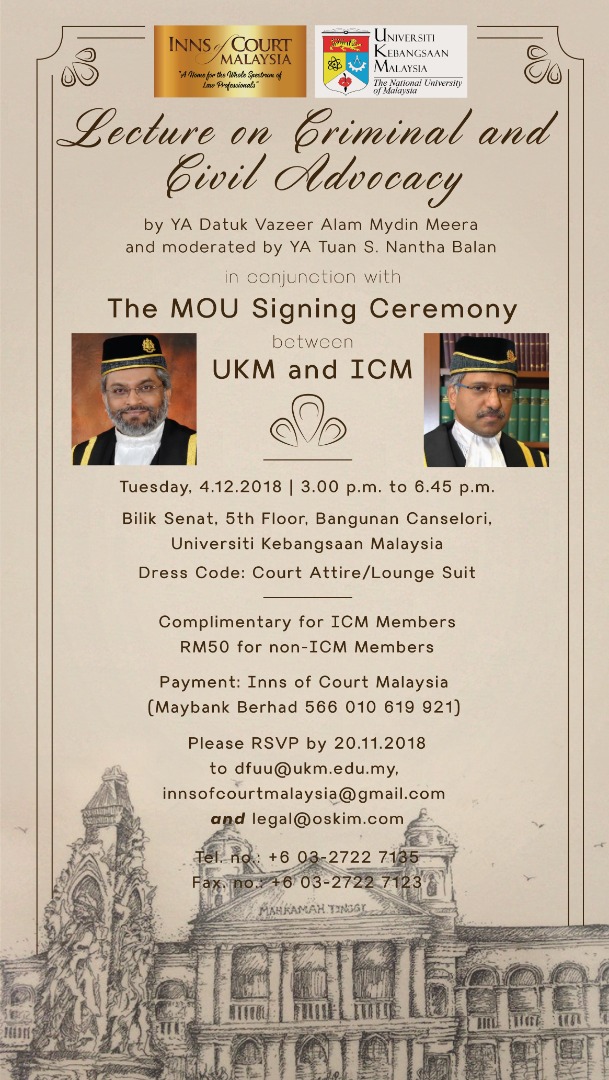 ---
Event:
MOU between ICM and UKM
Criminal & Civil Trial Advocacy by Justice Datuk Vazeer Alam Mydin Meera and moderated by Justice Nantha Balan E.S. Moorthy (ICM Legal Education Series #3)
Date:
4th December 2018
Venue:
Senate Room, UKM
---
"Advocacy, the weapon of an advocate, like a sword of the soldier and a dagger to the assassin."
– Wong Hong Yi
One of the qualities that a lawyer should have is good advocacy skills. Advocacy as explained by Justice Datuk Vazeer Mydin Meera is the art of skillful persuasion to bring others to agree with our point of view. So, when advocacy can be done through effective communication which encompasses of appropriate languages, clarity, simplicity, timing, ethics and etc., it will assist the advocates in building a relationship with the decision-makers to persuade them to be on your side of the arguments.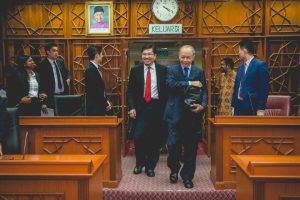 Justice Datuk Vazeer's vast amount of experience as a practitioner acknowledged that trial advocacy is an essential skill which is difficult to be taught. Traditionally, it is learnt through practical immersion and training whereby the pupil observes and learns by watching his master performs. However, in this ever-changing world, it cannot be denied that information can be easily obtained at the end of our fingertips. To help us young practitioner and pupils sharpen our advocacy skills, His Lordship introduced us his favorite book entitled "The Devil's Advocate" by Ian Morley QC where he found that the book is very concise and of easy reading. He encouraged us to get a copy and to digest the principles laid down in the book to assist us in developing our advocacy skills besides visiting websites and watching videos for improvements.
The lecture continues as he emphasized that trial advocacy shall include all aspects of the proceedings from pre-action to post-trial. The importance of both written and oral advocacy requires the advocates to be clear, concise and complete. These traits would ensure that an advocate dissects and distils large amounts of material into what is essential especially when the main goal is to assist the judge and not to complicate matters. Therefore, when good advocacy skills are in place, it entails the skillful interlocking of facts and evidence to the law.
The climax of the lecture was the sharing session, whereby Justice Datuk Vazeer shares one of his many experiences dealing with criminal cases. He stressed out that it is very important for an advocate to always understand and have full knowledge of the case from top to bottom without leaving behind any information especially on the facts of the case. This would be helpful for them to analysis the case better to develop a concrete theory for them. This is because throughout his practice as an advocate in the legal profession, Justice Datuk Vazeer came across countless criminal cases where he managed to defend the accused and spare them their lives from death sentences and imprisonment. One of the examples was somewhere in the year 1987, where Justice Datuk Vazeer was one of the few prominent counsels appointed to defend Private Adam Jaafar in a case better known as "Adam Rambo". In that case, Adam went on a shooting spree in the street of Chow Kit claimed that the incident resulted from the problems in his workplace due to constant pressure and ragging by his colleagues. What seems to be an intention of murder punishable by death if convicted took a huge turn when Justice Datuk Vazeer was able to connect the facts and pleaded unsoundness of mind as a defence despite having limited amount of information and materials. As he sticks by his principles to always study the facts and understands them, he was able to relate his case with what was said in the interview with his client and the medical officer and psychologists who assessed the situation. This is definitely inspiration for young practitioners like us to strive to be like him in order to uphold and vindicate justice for people who are innocent.
Towards the end of the lecture, there was one quote by Justice Datuk Vazeer that sticks into my mind. His Lordship mentioned about the 7Ps (Proper Planning and Preparation Prevents Piss Poor Performance). Justice Datuk Vazeer reminded us that proper planning is vital in every case and we must always know the laws and procedures relevant to it. Since advocacy is about effective communication to assist judges and decision-makers, it is incumbent upon advocates to identify applicable authorities that direct a court's decision making power in every case. Take for example, an architect who draws the building plan before any of the construction commences. Likewise, it is better for us to plan our presentation in reverse to ensure that we have a clear direction on the necessary material required in order to attain our end goal, which is to persuade the judge to grant the relief that is sought. It will also give us more focus as to which evidence is more significant that the other as to establish a good case theory and ultimately an effective opening statement.
Last but not least, His Lordship ended with the most basic aspect that lawyers and legal professional are nowadays lack of: COURTESY AND DECORUM. His lecture taught us that no matter how good advocacy skills of a person possess, it would never be useful if the person is not mindful of their discourtesies. He reminded all of us to always be respectful and courteous not only to the judges, but also our opponents and witnesses. His advised that we must learn to never bow down to failure and defeat, but instead to always strive for new knowledge and improve our existing skills along the way. That being said, he concluded with a tip on how to develop our advocacy skills which is none other than to PRACTICE, PRACTICE and PRACTICE.
Question & Answer Session
Before the end of the momentous event, Justice Datuk Vazeer and Justice Nantha Balan opened the floor for questions in this interactive session. There were a couple of questions, however these were the 3 questions raised by the participants of the lecture:-
Q:  I believe I have exhausted everything I had and gave my best when I am dealing with clients who are going through bail/remand application. At times, the magistrate/judges disregard my points and submissions. Under that circumstances, what can I do in terms of advocacy skills?
A:  At times, the judges exercised their discretion in accordance to the law and may disallow bail/ extend remand period. That being said, it is not something to do solely on the advocacy skills of a lawyer. One may cite and prepare and good submission for the judges, however things may not go the way he wanted. The only recourse for the lawyer who are dissatisfied with the decision and result is by way of appeal or revision. One can refer to Chapter 30 and 31 respective for appeal and revision in the Criminal Procedure Code (Act 593).
Q:  I am currently a pupil in a firm dealing mainly with Industrial Court matters. I have seen and acknowledge the procedures laid out in trials of civil matters. That being said, are matters in Industrial Court the same, and what are the necessities for re-examination of a witness to take place in a proceeding?
A: Basically, in a proceeding, the witness will come in to have an examination in chief by the lawyer. After that, the opposing lawyer will be given the chance to cross examine the witness. Therefore, it is important to be alert and observe what was being said and answered during the cross examination stage. If the witness happened to give answers or cornered by the opposing lawyer to give answers which are inconsistent or even does not support your theory of the case, then re-examination is necessary. Re-examinations are crucial and acts as a chance for your witness to 'fix things' and explain any discrepancies earlier.
Q: Being a judge and decision make of the court, how does one find the balance between legality and morality?
A: It cannot be denied that across all the cases that the judges dealt with, there will be surely some extraordinary and special circumstances whereby the clash between legality and morality are involved. However, the utmost importance is for them to judge in accordance to the enacted laws and regulations. Although judges are allowed to exercise their discretion, it is essential to keep in mind that they must always make and justify their decisions in line with the principles of laws.
Report contributed by Wong Hong Yi
ICM Editorial Board Subcommittee
---
Image Gallery