KDU Officiates Collaboration with Inns of Court Malaysia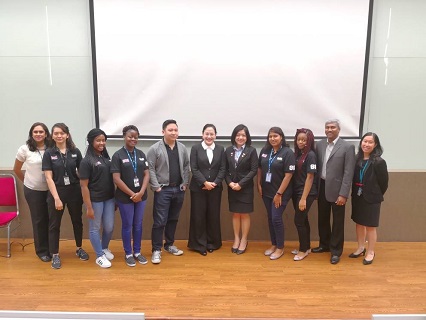 Riding the wave of success in establishing a smart-collaboration between KDU Law School and Inns of Court Malaysia, KDU College (KDU) has hosted a one-day event to celebrate the declaration of the partnership at its renowned campus located at Damansara Jaya on the 29 January 2018. The collaboration between KDU Law School and Inns of Court Malaysia (ICM) which is a professional body comprising of legal practitioners and the members of the judiciary marks another historical moment for KDU College as a whole. The collaboration between KDU and ICM is a pinnacle achievement made by the institution as it is in line with its vision which is set to "changing lives and enriching communities for a better world".
The ceremony was attended by the Honourary Secretary of the Inns of Court Malaysia, Ms. Mary-Ann Ooi Suan Kim, KDU University College's both Deputy Vice-Chancellors of Administration and Academic, Mr. Shanker A/L Sathivellu; and Associate Professor Dr Hon Wei Min; Head of KDU Law School, Ms Evon Lim; KDU Law Society Advisor, Ms Meerah Deiwi; the executive members of the KDU Law Society and fellow law students.
The ceremony started with a brief presentation by the KDU Law Society President, Mathew Brian Millip with a recap of the KDU Law Society's activities throughout the 2017 academic year followed by planned agenda for the 2018 academic year.
During the ceremony, Ms. Mary-Ann, has shared in her speech about the importance of the legal profession including the value of law degree. Furthermore, she has mentioned not only the journey of this collaboration but the benefits of Inns of Court Malaysia membership including ICM's intention to collaborate with KDU Law School in the future events.
This auspicious moment was topped up with ICM's surprise announcement to fellow students of the official recruitment  into the ICM Youth Division with KDU law students as the first batch of the newly announced division.
Prior to that, Ms. Evon has represented KDU to give ICM a few words of gratitude for choosing KDU as the first private institution partner in legal education.A short photography session  was perform to mark the end of the ceremony.
This eventful occasion solemnises yet another milestone for KDU's commitment and pledge to offer the best quality of education for its law students to embark on a challenging journey pertaining to legal matters. In present, KDU is proud to be the first and only private institution which have officially pen down a Memorandum of Agreement with ICM. It is hoped that this would bring more global opportunities for KDU law graduates to venture into the real industry as they form a new direct linkage with the professional body.
Source: http://university.kdu.edu.my/news-events/kdu-officiates-collaboration-inns-court-malaysia