MEMORANDUM OF AGREEMENT BETWEEN KDU LAW SCHOOL AND INNS OF COURT MALAYSIA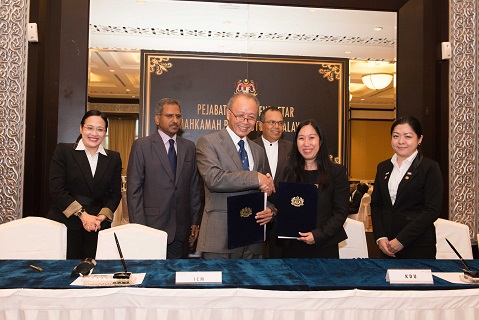 It marks a historical moment for KDU to collaborate with Inns of Court Malaysia (ICM) which is a professional body for Judges, Judicial and Legal Officers, Lawyers as well as all from legal professionals backgrounds. The signing of a memorandum of agreement between KDU Law School and Inns of Court Malaysia was undertaken at the Grand Ballroom Palace of Justice, Putrajaya on the 12 December 2017.
The commencement of a collaboration between KDU and ICM was sealed in a signing ceremony represented by KDU's Deputy Vice Chancellor – Academic, Assoc. Prof. Dr. Hon Wei Min and President of Inns of Court Malaysia, YA Bhg. Tun Arifin Zakaria. Commemorating the ceremony were Deputy President of Inns of Court Malaysia also Chief Justice of Malaysia, YAA Tun Md. Raus Sharif; Hon. Treasurer of Inns of Court Malaysia, The Honourable Tuan S. Nantha Balan; Hon. Secretary of Inns of Court Malaysia, Mary-Ann Ooi Suan Kim; and Head of KDU Law School, Ms.Evon Lim Ee Teng.
In present, KDU is proud to be the first and only private institution which have officially pen down a Memorandum of Agreement with ICM. This agreement is pinnacle to KDU Law School as it is in line with its vision which is set to changing lives and enriching communities for a better world. As well as the mission to deliver superior products and services that benefit society plus shape future generations of leaders and thinkers. This new chapter is hoped to bring more global opportunities for KDU law graduates to venture into the real industry as they form a new direct linkage with the professional body.
Inns of Court Malaysia is currently headed by YA Bhg. Tun Arifin Zakaria; immediate retired Chief Justice of Malaysia (2017). ICM serves as a platform for all legal related activities which are tailored towards professional legal excellence for its members from all seniority.
This eventful occasion solemnises yet another milestone for KDU's commitment and pledge to offer the best quality of education for its law students to embark on a challenging journey pertaining to legal matters successfully. KDU takes pride in being able to deliver a holistic approach and real-world knowledge to its students which could be the best incubation period for students to learn everything that they need to comprehend in the study of law.
Recently, KDU Law School is awarded 5 stars – Excellent Performance under the Malaysia Quality Evaluation Systems for Private Colleges (MyQUEST) Law Programme Category for year 2016 – 2017.
Source: http://university.kdu.edu.my/news-events/memorandum-agreement-between-kdu-law-school-and-inns-court-malaysia